Marcel Gromaire
Noyelles-sur Sambre 1892 - Paris 1971


Marcel Gromaire was born in Noyelles-sur-Sambre in 1892. Gromaire began his education in Douai, in northern France, and later went to Paris, where he began studying law. In Paris, he first became acquainted with the artists of Montparnasse.
In his autodidactic artistic development, Marcel Gromaire was influenced by such painters as Matisse, Cézanne, and later by Fernand Léger. In 1912, Gromaire was drafted into military service and served as a soldier in the First World War until he was wounded in 1916.
During his time in the war, he gathered the basic impressions which would determine his later artistic career. He returned to Paris in 1919 and worked as a film critic at first. In 1920, Marcel Gromaire met his future patron, Dr. Girardin, who for decades regularly bought the oil paintings and watercolors Gromaire produced. Marcel Gromaire's work was finally recognized in his exhibition of 1933 in the De Bâle art gallery. In 1937, Gromaire carried out the decoration of the pavilion of the porcelain manufacturer Séveres at the World Exhibition in Paris.
From 1933 to 1944, Gromaire was part of the renewal of the tapestry movement and therefore belongs to the definitive pioneers of a new Gobelin tradition. Gromaire went to the United States in 1950 and received the renowned Carnegie Prize in 1952.
After much sickness, Marcel Gromaire died in Paris in 1971.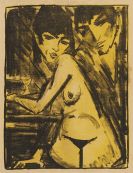 Otto Mueller
Paar am Tisch (Selbstbildnis mit Maschka, Absinthtrinkerin)
5,550 $
Details